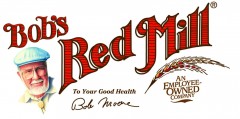 The Bob's Red Mill Integrative Medicine Panel Scholarship is open to all students from the five medical schools in Portland: NUNM, OHSU, UWS, OCOM and Pacific University's College of Health Professions and Optometry.
Video entries are due by January 1, 2017. One finalist from each school will continue on to compete in a panel on January 28, 2017 at the Student Alliance for Integrative Medicine's (SAIM) annual Integrative Medicine Day in Portland. Finalists must be able to attend the panel to be considered.
Winners of the panel will receive:
First Place: $6,000 scholarship
Second Place: $5,000 scholarship
Third – Fifth Places: $3,000 scholarship
Winners will be chosen based on their performance at the Student Panel portion of Integrative Medicine Day on January 28, 2017
Step 1
"Pick a Product." Choose a grain or seed from the Bob's Red Mill website, deliver a three-minute speech about this product, and post it on YouTube by 5 p.m. PST on Jan. 1, 2017. Email the link to your school's representative.
Step 2
The executive board at each school will pick the top three submissions and invite contestants for a live interview. Live interviews will be used to evaluate contestants' abilities to think on the spot and perform in front of others. Interviews will be conducted sometime between Jan. 1 and Jan. 15.
Each executive board will then choose one contestant from their school to move to the final round. Finalists will be announced by Jan. 15, 2017.
Step 3
Finalists will engage in a panel discussion on Jan. 28, 2017. The theme of the panel is Food as Medicine. Panel structure will be as follows:
Each panel member will be given two minutes for an opening statement
The other panelists will be prompted with questions to answer and discuss among themselves.
Each panel member will be given one minute for a closing statement
Panelists will be judged on speaking ability, accuracy of information, and ability to think on the spot.
Step 4
Winners will be announced the evening of Jan. 28, 2017, at SAIM's Integrative Medicine Day during the social gathering.
Note: Only those who have not received a scholarship from Bob's Red Mill in the past are eligible to apply.
If you have any questions about the process, please email your school's representative. Good Luck!