June 29, 2019, at 2 p.m. | Oregon Convention Center, Portland, Oregon

Graduation Application
Please fill out the graduation application and submit to the registrar's office.
Graduation Party
Join NUNM in raising a glass to the class of 2019! All 2019 graduates are invited to celebrate at Opal 28 on Friday, June 28.
Buy Graduation Party Tickets Buy a First-Aid Kit
Live Stream of Graduation
Commencement 2019 Program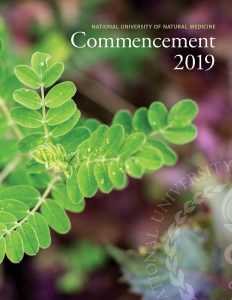 Download the 2019 Commencement Program
Career and Alumni Services
MyCareer helps you work with the Center for Career Development & Alumni Services. If your SONIS login credentials do not work, you can reset your password by clicking the "forgot password" link.
After you log on, please:
Create a profile
Upload a current well-lit photo of you wearing "business attire" (casual is fine)
Upload your current resume
Visit the Career Center office in the second floor hallway of the Academic building or email the Career Services Manager, Tafflyn Williams-Thomas.