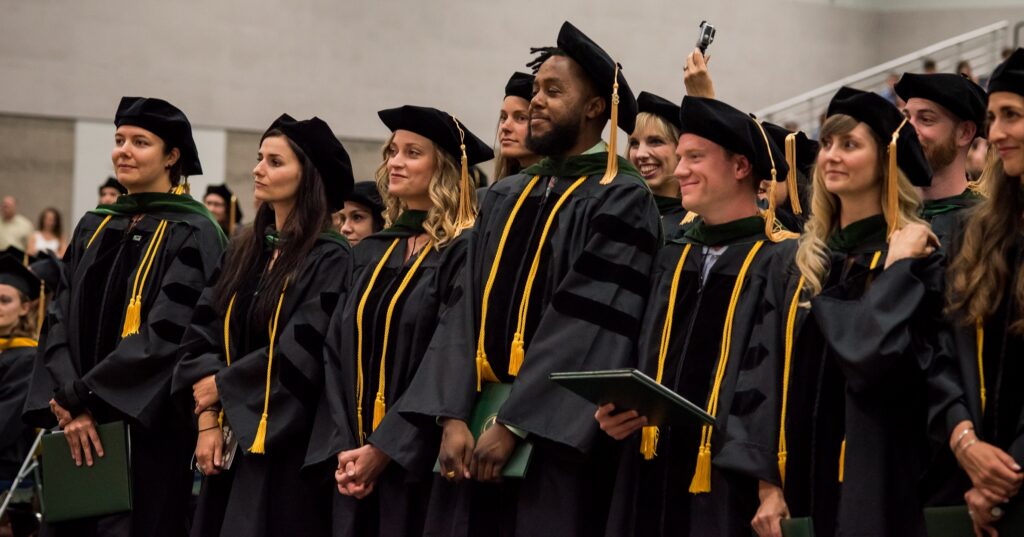 Congratulations to NUNM's Class of 2021!
This year's Commencement will take place on Saturday, June 26, 2021.
While many universities have opted for online-only ceremonies, NUNM has done everything possible to facilitate an on-the-ground experience that enables us to commemorate your tremendous achievements, safeguard attendees, and adhere to evolving state and federal public health mandates.
Thanks to the diligent work of many stakeholders, we are pleased to share that this year's graduates may bring one guest with them to the June 26 in-person event — your partner, your parent, your #1 fan! 
We also ask for your help ensuring this special celebration is safe and comfortable for all. We will need to gather the name of your guest ahead of time, so please follow the instructions below. 
Per current CDC recommendations, NUNM's 2021 Commencement event guidelines are as follows:
Graduates are asked to complete this form with the name and contact information of their one guest by Sunday, June 20, 2021.
Graduates are asked to adhere to and share the following expectations with their guests:
Upon arrival, every graduate and guest will have their temperature taken at the COVID-19 Check-in Table;
All attendees must keep masks on during the event, regardless of vaccination status;
All attendees are asked to maintain a 6-foot social distance whenever possible;
Post-ceremony, graduates are asked to meet their guests in the parking lot for hugs and photos (not on campus).
The in-person portion will be livestreamed for the rest of your support team to watch you cross the stage in real time. Later that evening, you can join us virtually at 4:30 p.m. for the NUNM Commencement Presentations Watch Party. As a community we will watch Keynote Speaker Dr. Cassandra Quave and student speakers Lexi Loch and Steven Nguyen. These events will be livestreamed on this web page: http://studentservices.nunm.edu/graduation.
At approximately 5:15 p.m., the Oath Recitation for ND, MSOM, and DSOM students will be held on Zoom (link forthcoming). All NUNM community members are welcome to attend and cheer on your classmates.
Thank you for your patience and your partnership as we head into this celebratory season. We know you have not walked this road alone, and we are delighted to accommodate some of the loved ones who've supported your academic journey.
See you at the mandatory Graduation Information Teams meeting this Friday, June 18, 2021, at 8 a.m. (invitation sent and linked here).
Questions? Email StudentLife@nunm.edu.
Below is a schedule of the day's events (all times PST):
10:00 a.m. Awarding of Degrees — Undergraduate Studies
11:30 a.m. Awarding of Degrees — Graduate Studies
1:15 p.m. Awarding of Degrees — Classical Chinese Medicine (including ND/CCM)
2:45 p.m. Awarding of Degrees — Naturopathic Medicine
4:30 p.m. Commencement Presentations Watch Party
5:15 p.m. Oath Recitation for ND, MSOM, and DSOM students
Graduates: Find details regarding deadlines, forms, and more on our Student Life SharePoint page.
NUNM 2021 Commencement FAQ
Q. Are guests allowed at Commencement?
Each graduate will be allowed to bring one guest.
If COVID-19 infection rates and Oregon/Multnomah County safety guidance change, the format of our event may change to an in-person ceremony without guests OR a fully online commencement ceremony.
We continue to watch CDC, OHA, and the Governor's office for COVID-19 guidance and will keep you posted here if or when plans change.
Q. Where will Commencement be held?
The in-person hooding ceremonies will take place in the East parking lot of campus, located at 49 South Porter Street, Portland OR 97201.
Q. What COVID safety protocols will be in place?
The safety of graduates and guests is our top priority. The following measures will be in place:
Guests and graduates will visit our "COVID Symptoms checkpoint," upon arrival, where they will be asked questions about potential symptoms and will have their temperature taken.
Guests will be asked to give the name of the student they are supporting for potential case tracking needs.
Guest seating will be spaced six (6) feet apart.
We ask that guests remain for the entire event and only use one chair. Chairs will be sanitized between ceremonies.
Restrooms will be marked, and masks are required while in use.
Hand sanitizer will be readily available throughout.
Q. Where should students and guests go upon arrival?
Students and guests will report to the east side of campus to check in at the COVID-19 Check-in Table. Please follow the wayfinding signs or ask an NUNM Marshal.
Q: What time do I arrive?
Please consult with your graduate. Arrival times and other details are available on the Student Affairs internal SharePoint site.
Q. Where should I park?
Please park in the West NUNM parking lot or on the street. Parking lots will be marked for the event and an NUNM marshal will be at each lot to help direct visitors.
Q. Where do guests meet their graduate after the ceremony?
Graduates and guests will reunite in the parking lot at the vehicle they arrived in. In an effort to keep campus safe, we ask that you please refrain from wandering the area after the event.