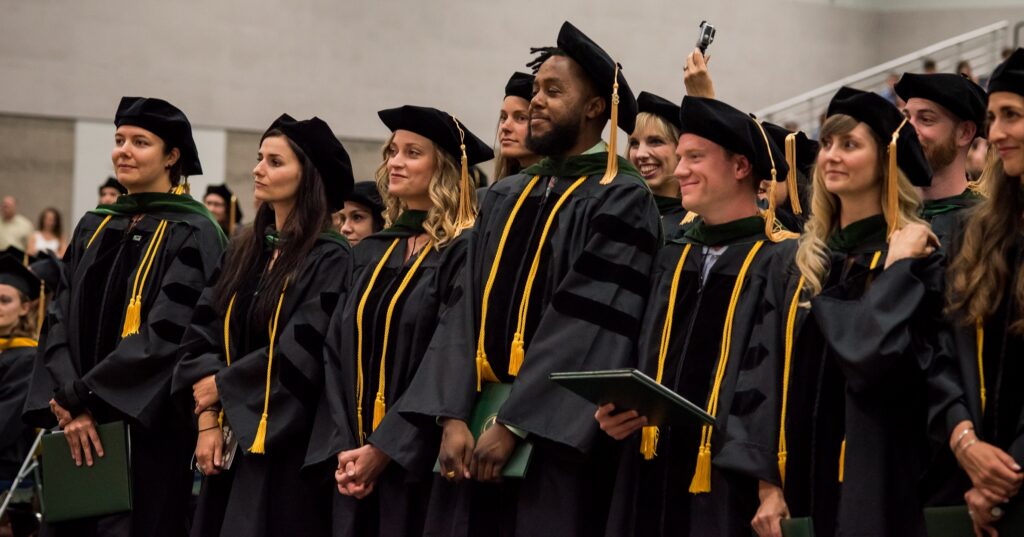 Congratulations to our graduating class of 2021!
This year's graduation will be taking place on Saturday, June 26, 2021.
The University is closely monitoring COVID-19 guidelines for group gatherings and will share more information in the coming weeks regarding the format of commencement.
See below for answers to frequently asked questions.
NUNM Graduates: Find details regarding deadlines, forms. and more on our Student Life SharePoint page.
NUNM 2021 Commencement FAQ
Q. Are guests allowed at Commencement?
Each graduate will be allowed to bring one guest.
If COVID-19 infection rates and Oregon/Multnomah County safety guidance change, the format of our event may change to an in-person ceremony without guests OR a fully online commencement ceremony.
We continue to watch CDC, OHA, and the Governor's office for COVID-19 guidance and will keep you posted here if or when plans change.
Q. Where will Commencement be held?
The in-person hooding ceremonies will take place in the East parking lot of campus, located at 49 South Porter Street, Portland OR 97201.
Q. What COVID safety protocols will be in place?
The safety of graduates and guests is our top priority. The following measures will be in place:
Guests and graduates will visit our "COVID Symptoms checkpoint," upon arrival, where they will be asked questions about potential symptoms and will have their temperature taken.
Guests will be asked to give the name of the student they are supporting for potential case tracking needs.
Guest seating will be spaced six (6) feet apart.
We ask that guests remain for the entire event and only use one chair. Chairs will be sanitized between ceremonies.
Restrooms will be marked, and masks are required while in use.
Hand sanitizer will be readily available throughout.
Q. Where should students and guests go upon arrival?
Students and Guests will report to the East side of campus to check in at the COVID-19 Check-in table. Please follow the wayfinding signs or ask an NUNM Marshal.
Q. Where should I park?
Please park in the West NUNM parking lot or on the street. Parking lots will be marked for the event and an NUNM marshal will be at each lot to help direct visitors.
Q. Where do guests meet their Graduate after the Ceremony?
Graduates and guests will re-unite in the parking lot at the vehicle they arrived in. In an effort to keep campus safe, we ask that you please refrain from wandering the area after the event.