New student orientation is designed to introduce new NUNM students to the academic, co-curricular, and student services and programs vital to their successful transition to the NUNM community. By exposing students to the key services and opportunities available to them, we hope to enable students to make well-informed choices and decisions. In collaboration with campus offices, the orientation program aims to provide a structured and holistic introduction to the university environment for students. Through programs offered, new students will be informed about educational opportunities and responsibilities in and outside of the classroom.
All incoming students are required to attend one full day new student orientation session during the summer and the academic program orientation. To find the available dates of the mandatory one-day new student orientation and academic program orientation please visit the NUNM Academic Calendar.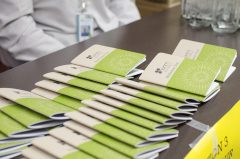 During orientation, students will hear from various departments and staff members including: Financial Aid, the Registrar's Office, Business Office, Office of Student Life, and the program deans. Information regarding Honor Council, Title IX, academic accommodations and much more will be discussed to help familiarize the incoming class to the policies and procedures at NUNM.
The primary goals of new student orientation are to:
aid new students in making the transition from their previous environment to National University of Natural Medicine (learn)
acquaint new students and their families with the mission, programs, and services of the university (learn)
inform students of campus services and resources that will enhance their academic success and overall NUNM educational experience (learn)
provide students the opportunity to interact with other students, faculty, and staff of NUNM (Engage/Connect)
provide appropriate information on personal and property safety and security. (learn)
promote the awareness of all aspects of campus life, including formal and informal non-classroom activities. (connect)
provide structured opportunities for new students and their families to meet faculty, staff, continuing students, and other new students.(connect)
Incoming students will be contacted by the Office of Student Life with details of orientation, once they have completed the admissions process.
Online Presentations
Financial Aid Video Presentation
For more information contact Financial Aid
Q&A with Registrar's Office
For more information contact Kelly Garey
Academic Progress and Success
For more information contact Chris Ballard
HIPAA
For more information contact Dr. Regina Dehen
Disability and Academic Accommodation
For more information contact Morgan Chicarelli
Technology Tutorial: Email & Advocate
Technology Tutorial: SONIS Registration Instructions
Unpacking the Invisible Knapsack, article by Peggy Macintosh
"What is White Privilege?", Youtube video
Tuberculosis Surveillance
NUNM applies this testing policy to students, employees, and volunteers, as the risk of working in a medical setting maybe high. New students, and students returning from over one year of leave, must be tested with the Quantiferon Gold TB blood test, which is to be completed during New Student Orientation and before matriculation in classes. The required test can also be obtained at various labs, and for a reduced rate at the NUNM Clinic lab. Please contact NUNM TB Coordinator for forms and information. NUNM TB Testing Screening FAQs